Sky is very happy to take on painting commissions to suit any specific requirements you may have in mind. Be it a certain size canvas to fit a certain wall in your home, a particular palette of colours to suit your interior, or an exact species of bird or animal that has a special meaning to you.
A painting commission can make a really wonderful gift for a loved one, or be the perfect finishing touch to a favourite space in your home. Here are a couple of commissions Sky has recently completed, both as birthday gifts, along with testimonies from the customers.
"I have just received the most beautiful painting that I had commissioned for my husband's 50th birthday. My husband and I had visited Kaziranga National Park in Assam some years ago, where we were lucky enough to spot a beautiful Great Hornbill sitting in a tree. It was a very memorable moment and I asked Sky if she thought she could draw the bird. I have to say, I was amazed that she nailed it straight away. I didn't want to mess with Sky's style so I gave her lots of freedom with the painting part but we agreed on how the bird should look and be placed in the overall composition.
My husband and I want to say thank you so much Sky, for turning inspiration into reality – with minimal hassle – you are such a pleasure to deal with and nothing was too much trouble. THANK YOU!! We will happily recommend you for any commission – especially for bird and nature lovers like my husband."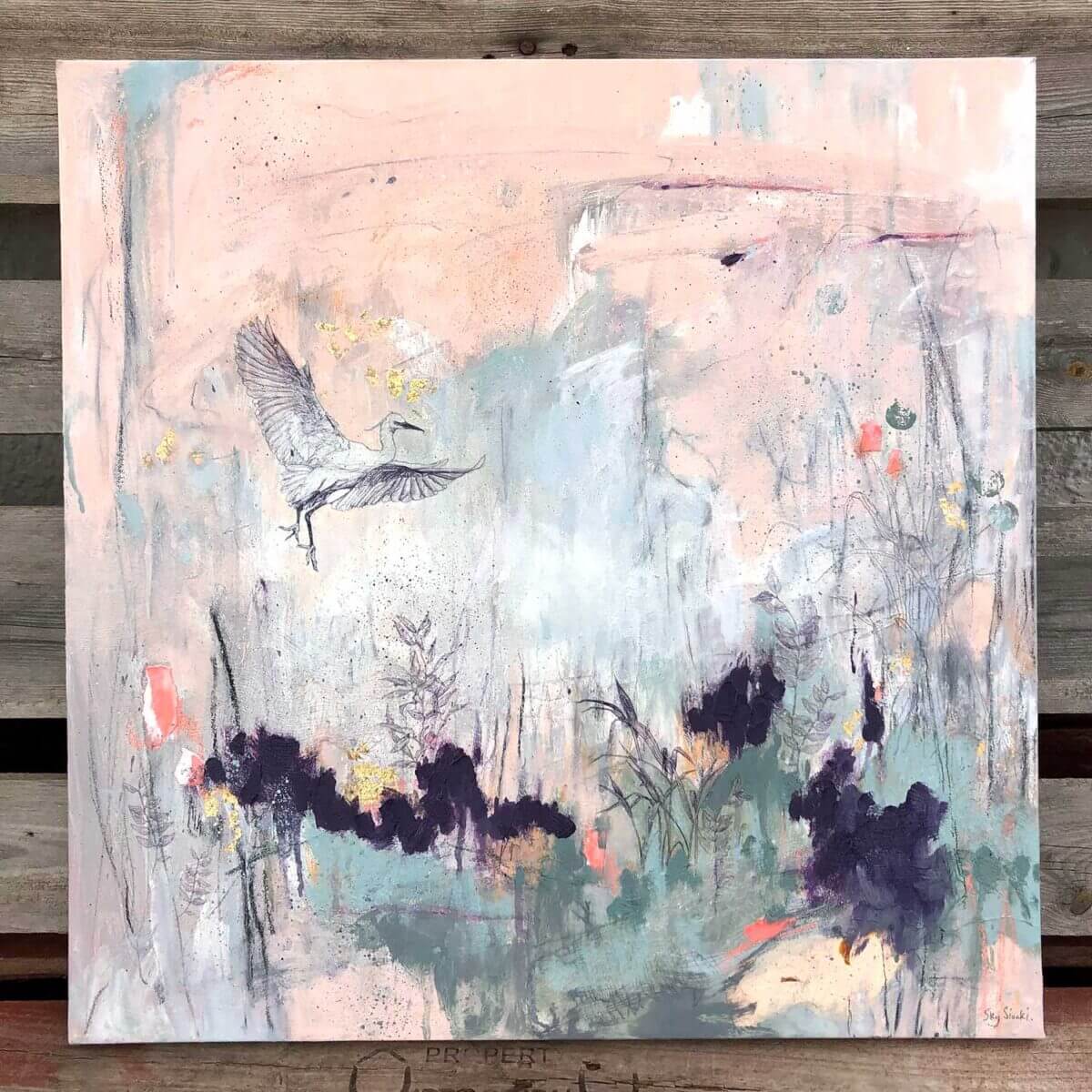 "We loved working with Sky. She is very professional, she fulfilled our brief perfectly and she kept us updated during the whole painting process. We felt very involved as she included us in her creative process by sending us updates and pictures. The final work exceeded all our expectations, we are very happy with the painting. We would definitely work with her again for any future commissions. "
Sky loves a challenge and working towards a specific goal so finds working on commissions especially fulfilling and rewarding. She will begin by discussing what you want with you, going over key areas such as illustrations, colour, texture and size, and if helpful will provide a mood board to convey her ideas and inspiration. She will then keep you updated each step of the way with her progress so there is room for tweaking if needs be.
Most paintings will need a minimum of 2 weeks to dry once complete, and an additional 1-2 weeks to be framed if required. Overall a painting commission is likely to take 4-8 weeks from initiation to completion.
Sky can offer a range of pricing options to suit your budget so please don't be afraid to get in touch for a no-obligation quote. A 50% non-refundable deposit will be required before any work begins, with the remaining 50% due following completion. See a breakdown of Sky's pricing structure below. Pricing does not include framing or delivery and is subject to individual requirements, this table is intended just to give a rough indication.
Sky hopes these prices allow for a variety of budgets depending on what level of exclusivity you would like your piece of art to have to you. If Sky is able to reproduce her illustrations to use again in future works and to sell as giclée prints, it gives her the opportunity to make your commission more affordable to you.
Sky's illustrations take her many hours to do so if you would like a bespoke illustration included in your painting this will add to the cost depending on the complexity of the subject. Prices here are based on an average of 15 hours to do a drawing but for example a small garden bird may only take Sky 7 hours whereas an intricate dragonfly takes 28 hours. The illustration will be applied to the canvas as a high quality transfer as it is not possible to draw straight onto a painting in such defined detail. Sky will maintain ownership of her original illustrations in all cases.
Email Sky at [email protected] to enquire and get a completely pressure free quote.