Sky Siouki is a Bristol based artist inspired by nature, wildlife and expressionism. Her ethereal abstract paintings combine highly detailed pencil illustrations of different species of flora and fauna with expressive, bold and colourful oil paintings. Her artwork is striking and unique, with a central focus on the importance wildlife has on our planet. Her most recent work especially aims to raise awareness of critically endangered species around the world with the hope of making a positive impact on climate change.
Sky's distinctive artwork features detailed studies of various different animal species amongst abstract painted landscapes and rugged foliage. Behind each stunning illustration are subtle, painterly transitions of natural greys and browns contrasted by occasional streaks and sprays of bolder hues. Fragments of gold leaf peep out from thick patches of oil paint overlaid with delicate botanical drawings suggesting scenes of unexplored wilderness.
Sky's art is also available in a range of open and limited edition giclée prints and greeting cards. Sky Siouki is a partner of World Land Trust and donates a small portion of profits from her cards and selected prints to help aid their conservation efforts. Read more about the partnership here. She also occasionally holds charity auctions and donates to other wildlife charities such as People's Trust for Endangered Species and Somerset Wildlife Trust.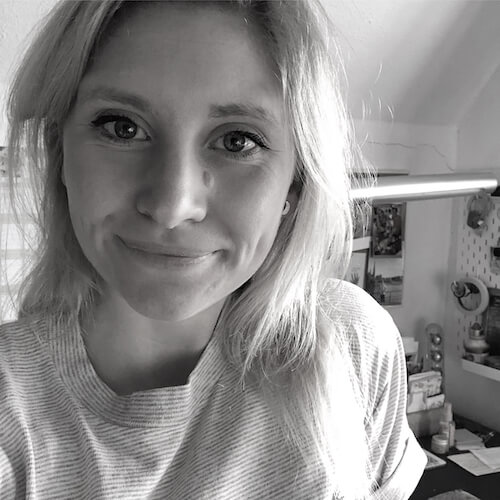 "Hello I'm Sky, my full name is Sky Siouki Procter but I like to go by Sky Siouki as an artist. Siouki is said su-ki. I love wildlife, the countryside, cooking and being cosy at home in my lovely self-renovated 1920s house, along with my two cats Freddie and Reuben and Romanian rescue dog Puica. I live and work in Bristol from my home office some of the time and my painting studio the rest of the time. I started working for myself straight after graduating with a degree in textile design in 2013. Since then Sky Siouki has gone through a few phases to bring me to where I am now. I love what I do immensely and wouldn't change it for the world."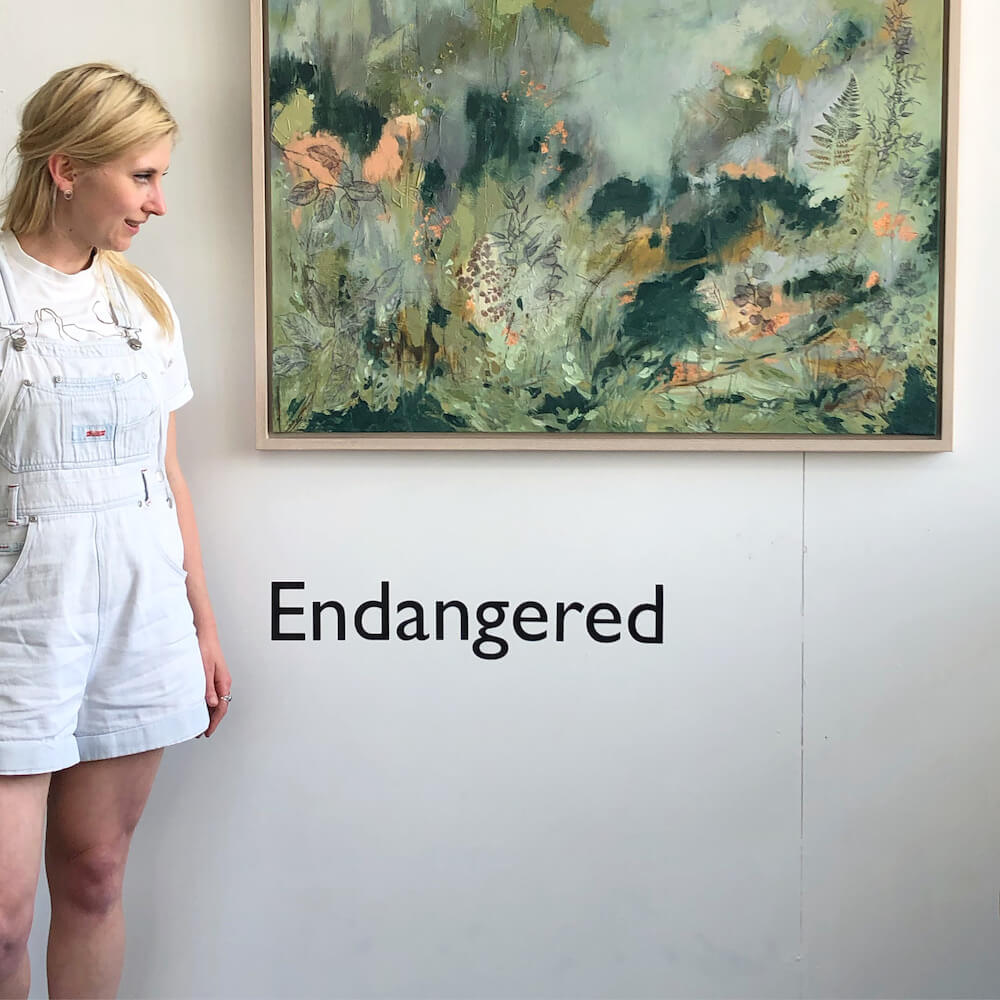 Artist Statement
When I paint I let my imagination and emotions take me on a journey. Although my inspiration is from nature and wildlife, I don't tend to paint with a subject in front of me but rather absorb my surroundings, the colours, sounds and atmosphere when I visit a place and then release my memory of it back onto the canvas so the artwork is in fact very personal to me. Each painting begins with loose expressive brushstrokes as I find my way with which colours harmonise best and then tends to progressively become its own imagined landscape where the essence of forests and pools of water are suggested but never fully defined.
I also spend hours meticulously drawing different wildlife species using pencil on paper, taking great care to accurately portray every detail so as to do the intricacies of each subject justice. Then I usually transfer these illustrations into my paintings giving the abstract landscapes further context and creating a striking contrast between expressive, rich paint and fine, intricate drawing. I love both processes of drawing and painting although they are entirely different experiences. It would be too hard to do one and not the other so I have found a unique way to marry the processes together.
I like my artwork to remain abstract and open to interpretation by the viewer, inviting them to look deeper and explore the myriad of textures and colours that I gradually layer up using various mediums. I hope that this multitude of layers entices viewers to look beyond the surface, reaching them on a deeper level and causing them to consider the environment of the subject and how we as humans have a huge impact on nature.
Education
Textile Design BA (Hons) 2010 – 2013 Nottingham Trent University – 1st Class Honours. Specialised in printed textiles.
Foundation Diploma in Art and Design 2009 – 2010 University of Wales Institute Cardiff
A Levels: Art & Design, Art: Textiles, Psychology
Exhibitions
Prior Shop, Bristol – 'Places of Joy' joint exhibition with Harriet Popham, Oct 15th-30th 2022
Hart's Bakery, Bristol – May 2022
Eat Your Greens, Bristol – Feb 2022 (ongoing)
Mall Galleries, London – 'The Natural Eye' Society of Wildlife Artists Open Exhibition, one work selected, Oct 2021
ACEarts, Somerton – 'Endangered' solo exhibition, Jun-Jul 2021
Boundary Art, Cardiff – 'Inscape' group exhibition, Jul-Aug 2019
Dela, Bristol – Feb 2019
ACEarts, Somerton – British Wildlife Open Exhibition, two works selected, Oct 2018
The Malago, Bristol – 'Landskien' joint exhibition, Oct-Dec 2018
Grain Barge, Bristol – Jun-Aug 2018
Blaze, Bristol – 'Muse' group exhibition, Mar 2018