I'm very happy to announce that I have just launched four brand spanking new limited edition giclée prints in my online shop! All four are prints of my original paintings that I painted last Autumn using a mixture of oil paint, acrylic, charcoal, pastels, collage, gold leaf overlaid with image transfers of my original illustrations of birds and botanicals.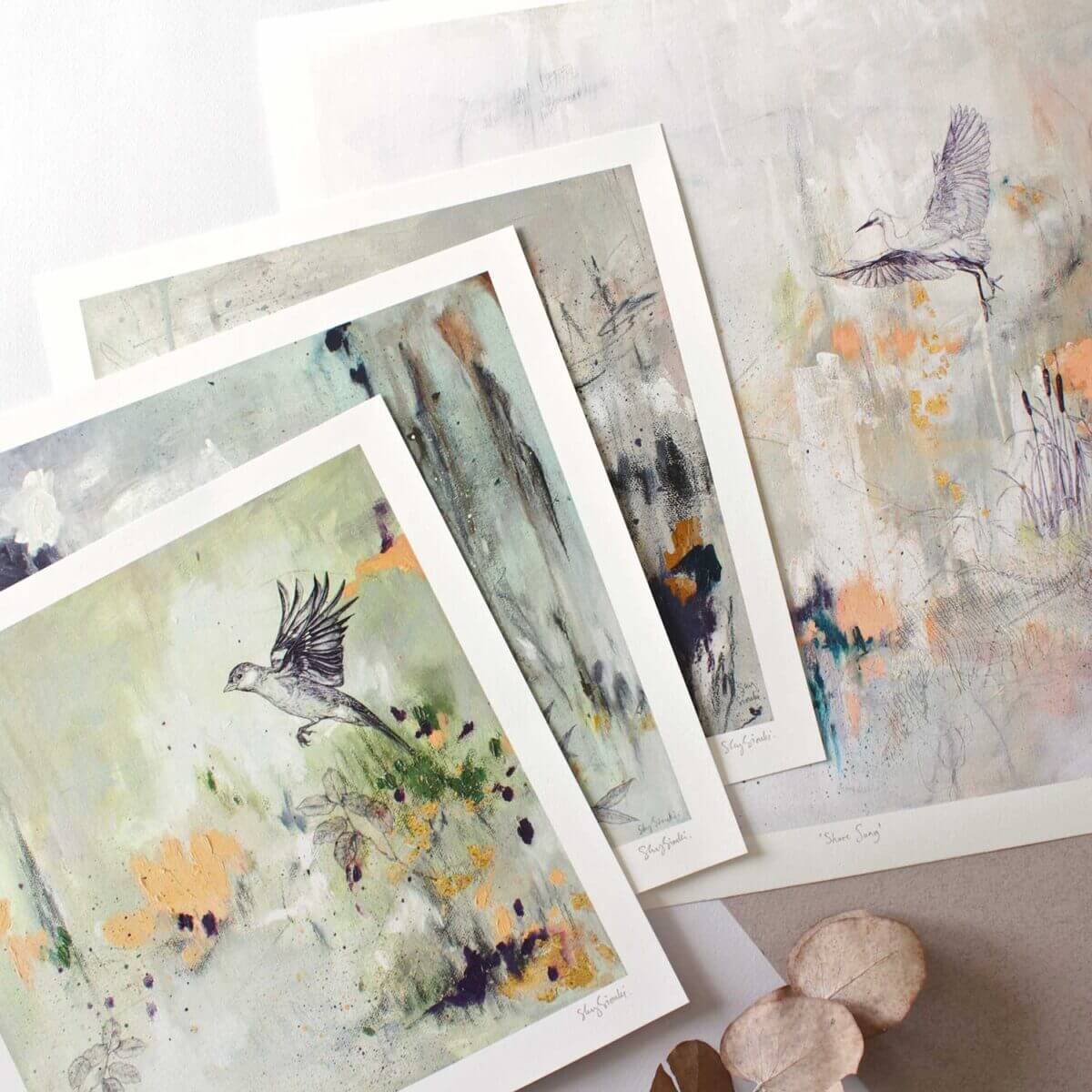 There are three 29.7cm x 29.7cm square sized prints titled Aurous, Azure and Flora and one larger 43cm x 43cm square titled Shore Song. Each is available in an edition of 50 so they won't be about forever.
On that note… some of my existing limited edition prints that I launched last year are getting towards the tail end of their editions too so if you've had your eye on any of them I would recommend ordering soon to avoid disappointment. Bright Haze, Gold Hop, Lustre and Moorland in particular are all selling fast!
If you are interested in the originals, Aurous and Azure can both be found in Gower Gallery in Swansea and Flora is soon to be exhibited as part of a new exhibition called Inscape at Boundary Art in Cardiff Bay.
Shore Song is a personal favourite of mine and I've actually decided I'm not ready to part with the original at least for now so it's currently hung above my bed in the bedroom. Since recently redecorating and painting the wall this gorgeous teal colour it just seemed like the perfect fit. Hopefully this image may give you some inspiration for how nice a framed print of it could look against a coloured wall in your own home! There are lots of subtle variations of colour within the whites and greys in this one giving it a beautiful sense of depth.
I am also still in the process of designing a new mini collection of insect prints. If you follow me on Instagram you may well have seen the progress of my Eyed-Hawk Moth and Carpenter Bee illustrations. I have yet to finish the bee illustration and then plan to draw one more insect, the species of which is yet to be confirmed. Suggestions always welcome! The three new prints will accompany my already existing Goliath Beetle print as a series of four insect designs.
If you'd like to keep up to date with more of my latest news, then please subscribe to my newsletter by clicking here!